Current Projects
Spring 2017
Crews planted new trees for the Lions Park Tree Walk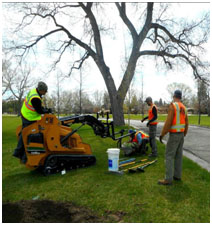 This Spring, forestry crews have worked hard to replant trees in Lions Park for the Tree Walk. Many trees on the tree walk had been damaged due to disease or extreme weather events and had to be removed.
The Lions Park tree walk showcases 37 different varieties of trees that are scattered throughout its grounds. Forestry crews help to care for and maintain these trees along with all the other trees in the park.
Some of the beautiful trees planted were a Bristlecone Pine, Kentucky Coffeetree, and a Swedish Aspen. These trees add an enormous amount of value and beauty to Lions Park. If you are interested in participating in the tree walk or would like more information stop by the Cheyenne Urban Forestry Office for more details or to pick up a map.
Forestry crews have also been busy pruning large trees in Mylar and Cahill parks. With the goal of removing dead, broken and hazardous limbs, these trees are now safer and healthier as a result. Staff have been planning for a spring tree planting effort as well. Forestry coordinates with the Parks, Cemetery and Golf divisions on planting locations and tree species.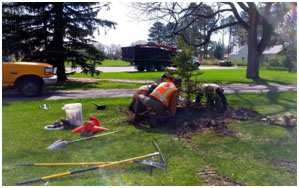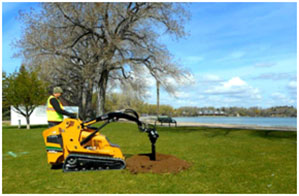 This spring's larger tree planting projects will occur at Sun Valley Park, United Nations Park, Western Hills Park, Pointe Park, Lincoln Park, North Park, Airport Golf Course, High Plains Arboretum and Lakeview and Beth El Cemeteries. Forestry strives to plant trees of the highest quality while also being fiscally responsible. On average our crews plant 150-200 trees in the spring. Several newer tree varieties will be tried, including Heritage Oak, Statestreet Maple, Briotti Horsechestnut and Sucker Punch Canada Red Cherry.
Cheyenne Urban Forestry is extremely lucky to have such a knowledgeable and hardworking crew who maintains our present forest and is planting trees to insure a healthy and diverse forest for the future!