Cheyenne's 5th Annual Green Industry Workshop
Friday, January 25, 2019 8:00 AM - 3:30 PM

At this year's green industry workshop we have a handful of speakers with presentations that include: pest management, plant pathology, landscape design, irrigation troubleshooting, water conservation, and even a presentation on the Historic Cheyenne Station located at the High Plains Arboretum. A taco salad lunch bar will be provided. This workshop is free to industry professionals thanks to our sponsors. Like last year we will have a silent auction with all proceeds going to Rooted in Cheyenne.

YOU MUST REGISTER TO ATTEND THE EVENT.

Green Industry Workshop Sign Up

Green Industry Workshop Sign Up - Print Form
---
Cheyenne's 4th Annual Green Industry Workshop Was a Huge Success
Sponsored by:

On January 26, 2018 the Cheyenne Urban Forestry Division hosted the 4th Annual Green Industry Workshop at the Kiwanis Community House. Over 100 professionals from the green industry attended to hear from 9 different speakers. Educational sessions provided professional information, as well as International Society of Arboriculture and Wyoming Commercial Pesticide CEU's. The day began with breakfast, networking, and a warm welcome from Cheyenne Community Recreation and Events Director, Teresa Moore.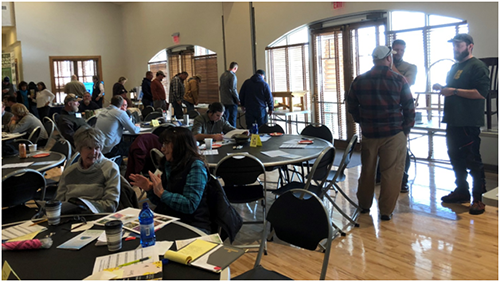 There was a great lineup of speakers and topics, and most presentations along with archived presentations from past workshops can be downloaded here.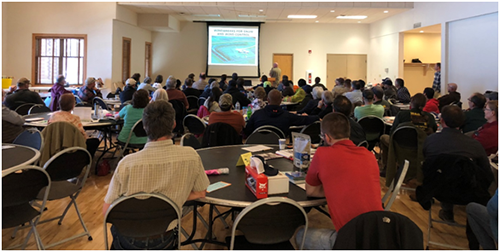 A huge thanks goes to the sponsors who made it possible to provide this event at no cost to participants. Sponsors included: 4Rivers, Brown's Shoe Fit Co, Cheyenne Urban Forestry, CPS Distributors, DBC Irrigation, Laramie County Conservation District, Laramie County Master Gardeners, and Wyoming State Forestry.

We also had many door prize donations from: Bobcat of the Rockies, Boot Barn, CPS Distributors, DBC Irrigation, Dickey's Barbeque, NORCO, Wyoming Work Warehouse, and  Wyoming State Forestry.

A new portion of the workshop in 2018 included a silent auction with all proceeds going to plant street trees throughout Cheyenne through the Rooted in Cheyenne program. The silent auction raised over $1,300.00 to purchase trees, thanks to the following generous donors: Big Paws Lawn and Tree Care, Blue Credit Union, Cheyenne Civic Center, Cheyenne Frontier Days Old West Museum, Chick-Fil-A, CPS Distributors, Daniemark's, Dave Schindler, David Ohde, DBC Irrigation, Eric Hammer, Flydragon Design Art Studio, Gardening With Altitude, Gnarled Root, Holmes A-One, Inc, John Mahoney, Laramie County Conservation District, Martha Millikin, Murdoch's, Northview Chiropractic, Paramount Ballroom, Paramount Café, Plant Select, Rx Tea Time, Steve Scott, SAF-Alpha Student Chapter, Vinney Miller, Visit Cheyenne, and Wyoming State Forestry.

We look forward to our 5th annual workshop in January 2019!If you would like to assist in the planning or if your business would like to be a sponsor for next year's event, please contact Cheyenne Urban Forestry or call (307)637-6428.
---
Cheyenne Celebrates Arbor Day on April 24th at the High Plains Arboretum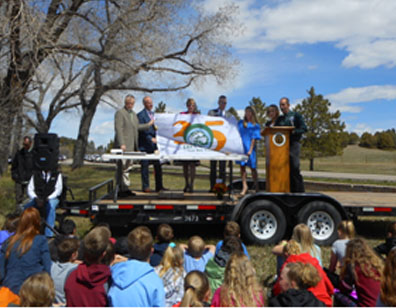 On April 24th, the Cheyenne Urban Forestry Division hosted the City of Cheyenne's 35th & the State of Wyoming's 129th Arbor Day Celebrations at the High Plains Arboretum. Governor Matt Mead and Mayor Marian Orr gave an Arbor Day proclamation and Cheyenne received the Tree City USA award and Growth Award from Mark Hughes of the Wyoming State Forestry Division. During the event, Forestry staff took a moment to celebrate the retirement of Lisa Snyder, Director of Cheyenne Urban Forestry. Lisa has worked for Cheyenne's forestry division for 32 years and has helped to build and shape the division into what it is today. She will be missed!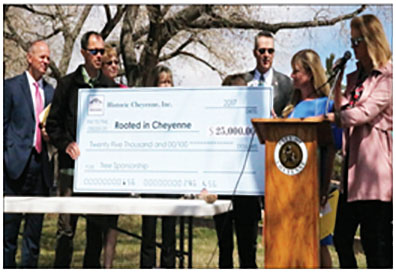 Another exciting moment at the Arbor Day celebration was the inaugural kickoff of a city tree planting program, Rooted in Cheyenne. Rooted in Cheyenne is a long-term tree planting program that will help to create a diverse and more sustainable tree canopy in Cheyenne. Mark Ellison, Assistant Director of Cheyenne Urban Forestry, gave a short history of Arbor Day and then discussed his plan to begin to reforest our city through the Rooted in Cheyenne program. He was accompanied by the Board of Directors of Historic Cheyenne Inc. who presented Rooted in Cheyenne with an incredible donation of $25,000 to help get the program
off the ground and running. If you would like more information about Rooted in Cheyenne, click here.
A group of fifth grade students, from Prairie Wind Elementary School, read personalized poems about trees to the audience in attendance and the state Arbor Day poster contest winner was recognized. The poster contest was sponsored by Wyoming Project Learning Tree and this year's theme was "Trees are Terrific for You and Me". Over 230 fifth graders participated in the contest and Faith Anderson of Yoder, WY won first prize for her poster. Once the ceremony concluded, the Governor, Mayor, and the students assisted Forestry staff in planting 2 Apple trees in the Arboretum. Free English-Bur Oak trees and cookies were then given away to attendees. More pictures of the event to follow: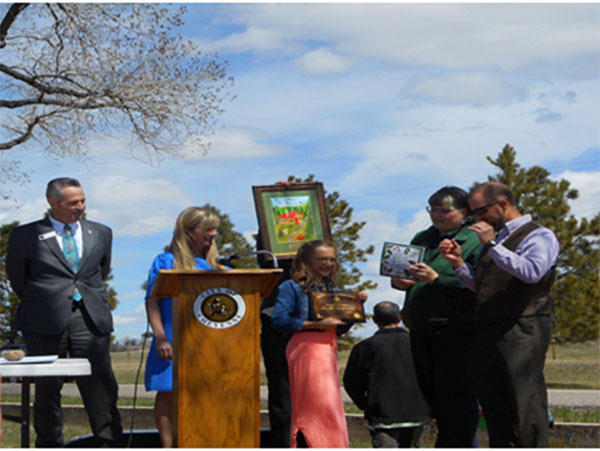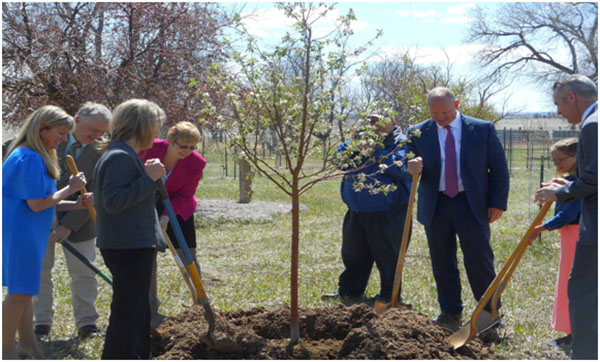 ---
Past Events
Kids Are Introduced to the High Plains Arboretum
at This Year's Treetober Fest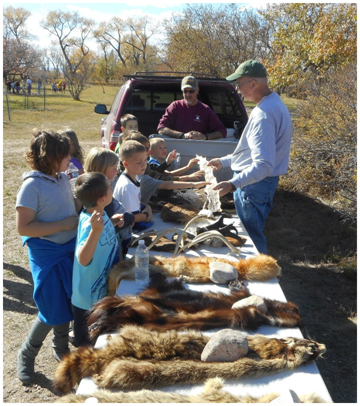 This year's 3rd Annual Treetober Fest took place on October 10 at the City's High Plains Arboretum west of town. Over 70 kids from the City's Latchkey Program participated in the outdoor educational event that included six stations where kids learned about the plants, wildlife and history of the High Plains Arboretum. The event was sponsored by the Cheyenne Urban Forestry Division with support from the Cheyenne Botanic Gardens, the Laramie County Conservation District, the Wyoming Game and Fish Department and Scrumpy's Cider.
This year's Treetober Fest was an opportunity to promote the High Plains Arboretum and encourage kids and their families to visit the arboretum. The High Plains Arboretum is located at the Cheyenne Field Station which is west of Cheyenne off of Round Top Rd. at 8301 Hildreth Road. The Field Station began planting a large variety of trees, shrubs, fruits and vegetables in the 1930s to determine which species were hardy to the high plains. The arboretum sits on City property and is open to the public. The arboretum features over 60 different trees and shrubs from around the world and includes markers which identify many plants and gives brief descriptions, including country of origin and year planted. To view a recently completed video of the arboretum, click here.
Cheyenne Celebrates Arbor Day on May 20 at Holliday Park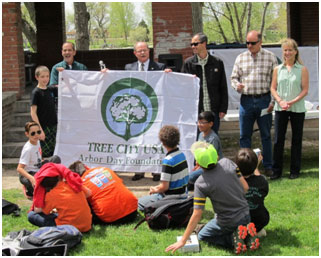 On May 20th the Cheyenne Urban Forestry Division hosted Cheyenne's 34th Arbor Day at Holliday Park. Mayor Rick Kaysen gave the Arbor Day proclamation and received the Tree City USA award and Growth Award from Mark Hughes of the Wyoming State Forestry Division. Parks and Recreation Director, Rick Parish discussed current and future projects for Holliday Park and thanked the Arborists of the Forestry Division for their hard work in caring for the over 12,000 trees on City property. A group of fifth grade students from Alta Vista Elementary School presented "10 Reasons Trees are Awesome" to the audience in attendance and Arbor Day poster contest winners were recognized. The poster contest was sponsored by Wyoming Project Learning Tree and this year's theme was "Celebrate Trees in our Community". Both fifth grade classes from Alta Vista participated and Sierra Baird-Moore won first prize for her poster. Once the ceremony concluded the students assisted Forestry staff in planting 2 Northern Red Oak trees in the park. Free trees and cookies were then given away to attendees and City Forester, Lisa Olson thanked the students and adults for their attendance. More pictures of the event to follow: